What's On in February!
What's On in February:
The month kicks off with the commencement of Six Nations 2022: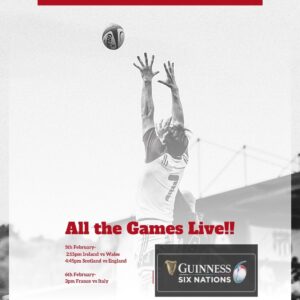 5th February – @14:15 Ireland vs Wales
                     – @16:45 Scotland vs England
Watch all the games live!  Where possible, we will be showing the games on our BIG screen with the volume up, so you really feel the atmosphere of the game!
To save your spot in front of all the action, select 'Six Nations 2022' when booking.
~~~~
We're celebrating Valentine's for the whole weekend.  Simon & his team are creating a menu perfect for sharing with your loved ones.  Watch this space for the menu!  Join us from Friday 11th through to the 14th to enjoy. 💘💖💝
Maddie is putting the finishing touches to one of her wonderful cocktail creations suitable for the occasion!
To check out our current food offer visit our Food & Drinks Page.
~~~~